The advent of technology has completely revolutionised music production. Now musicians can create professional sounding drum tracks in their bedroom thanks to smartphones. Whether you go to a music school, or are a professional musician, there are many free drum apps available online to produce sick drum tracks. But, finding them is quite painstaking. Which is why we did a lowdown on some of the best drum apps that can spice up your drumming education, notation reading, and practice regimen!
With some of the best drum apps for Android and iOS at the helm, you can broaden your drumming horizon, produce beats, compose music on the go and incorporate drum tracks with a digital audio workstation or beat making software. These drum apps also feature some really good free drum samples that can enrich your tracks. 
Note: You may also want to check out this list of free Drum VST plugins to spruce up your drum recordings. Without further ado, let's get started.
10 of the Best Drum Apps in 2022
1) Real Drum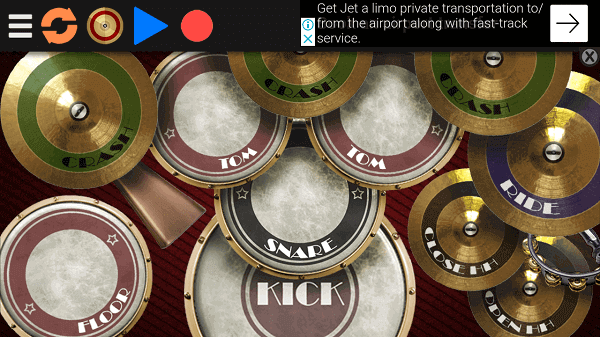 If you want to transform your Android phone/tablet into a real-life simulation of a drum kit, look no further than Real Drum. Stacked with over 13 drum pads, this nifty drum kit app offers immense customization and magically transforms your fingertips into drumsticks.
You can skim through a wide range of toms and snares with different timbres and studio quality sound. Not to mention, Real Drum boasts over 60 rhythm samples and 33 loops in a plethora of styles to jam along with! Simply tap on the drum pads to start recording your drum tracks and export them in MP3 format. All together, Real Drum is the perfect companion for drummers, percussionists, professional and beginner musicians.
2) GarageBand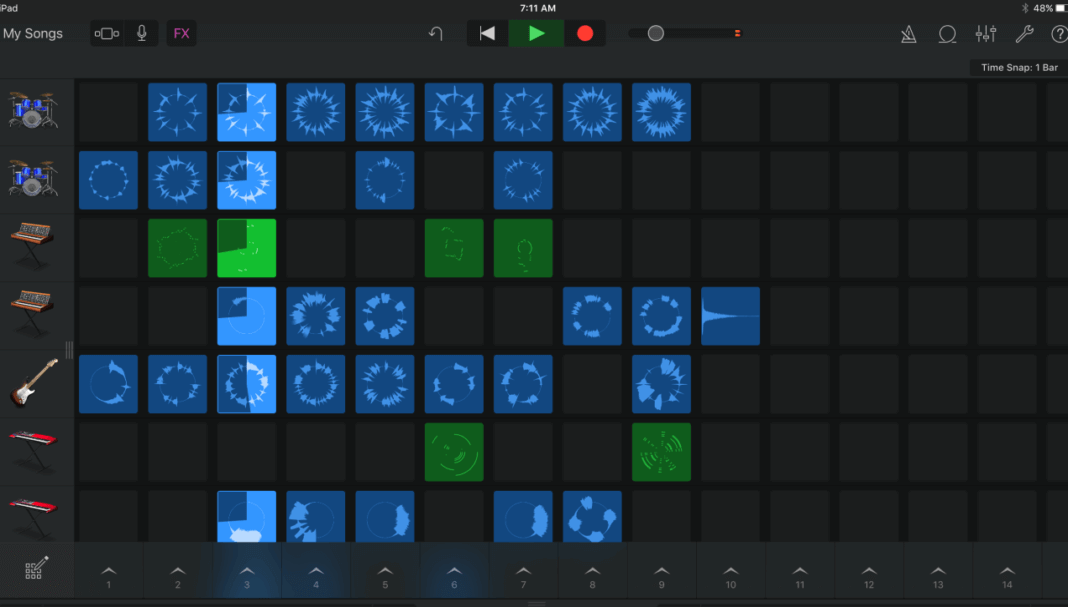 GarageBand is a free music production app from Apple Inc. that also doubles up as a drum app with built-in metronome. Popular amongst budding musicians, GarageBand is replete with a massive collection of virtual drummers, drum loops, inbuilt MIDI keyboards, instrument effects and AU plugins that come in handy for creating musical tracks.
You can simply choose any virtual drummer from an array of genres including rock, funk, brit pop, hip hop, electronic and create a solid drum track in no time. Each virtual drummer is loaded with a drum kit and distinct playing style which can be further modified to suit your mix. All in all, GarageBand is one of the best drum apps for musicians.
Want to produce your own tracks for the purpose of practicing? Music Maker Jam is worth a shot for musicians who want to create their own beats and grooves in a melange of genres including blues, rock, hip hop and more. 
Considered by many as one of the best drum apps on the market, Music Maker Jam lets you compose a drum track, throw in some inbuilt loops or upload your custom recordings. Upon completion, you can share your tracks with friends and fans via social media apps, and email. Music Maker Jam is currently available to download on both Android and iOS platforms.
4) Drum Knee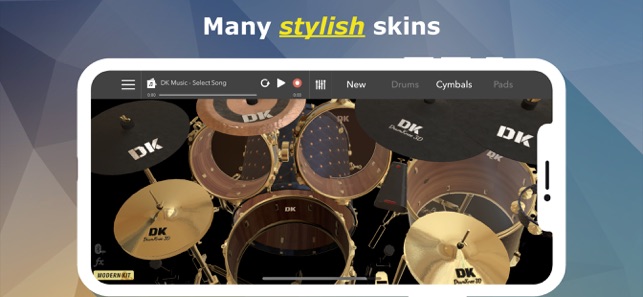 A revolutionary app in a league of its own, DrumKnee 3D lets you play the bass drum with your foot. Sounds crazy? Simply place your iPad or Android phone on your knee, kick your foot (as if it were on a bass drum pedal) and the phone will record a solid bass drum sound in real time.
Drum Knee takes full advantage of the shake functionality inside of modern smartphones and creates a new avenue for beginners to get started with recording drum tracks. The premium version costs $4.99 which includes custom drum sets, extra drum set packs, and no intrusive ads.
5) Drum Studio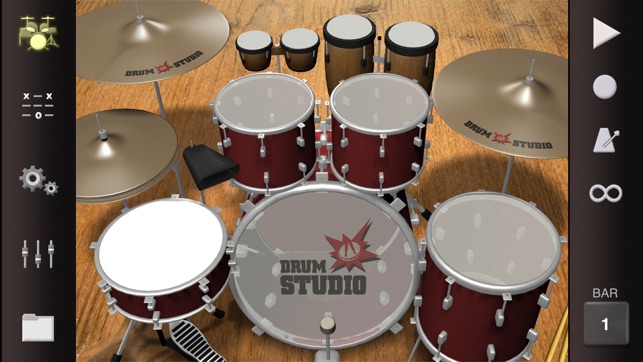 A multi-touch drum kit application, Drum Studio offers its own custom drum kits spanning a ton of genres such as rock, hip hop, and jazz, etc. What's more, you can tweak the sound of right handed hi-hat, toms, snare, crash and ride cymbals and change drum mic position settings on the go. 
The UI of Drum Studio is neat and clean with cool sliders and animations so that you can navigate easily whilst composing sick drum tracks.  
6) The Drum Dictionary (iOS)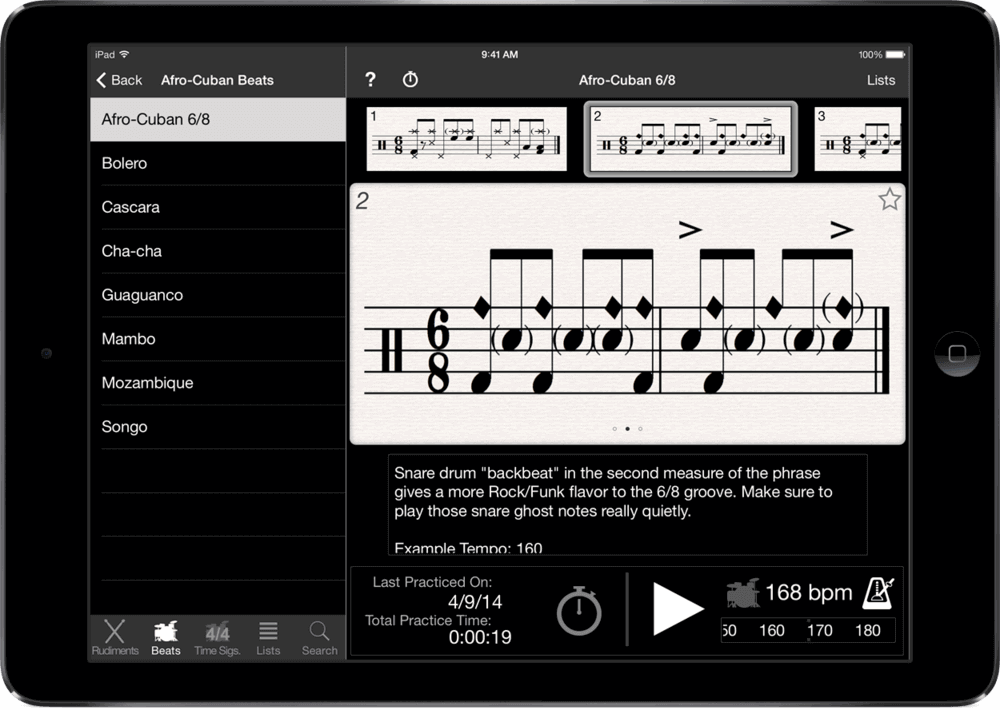 Are you always traveling and fret about losing your music notation sheet? Fret no more for Drum Dictionary is a nifty app that stores all your drum notations on the go. Now, drummers, and musicians in general can quickly save their practice regime on this app and customize them into different categories. 
As well as written instructions, The Drum Dictionary comes loaded with a melange of audio demonstrations. It is available for a free download on the App Store.
7) The Metronome by SoundBrenner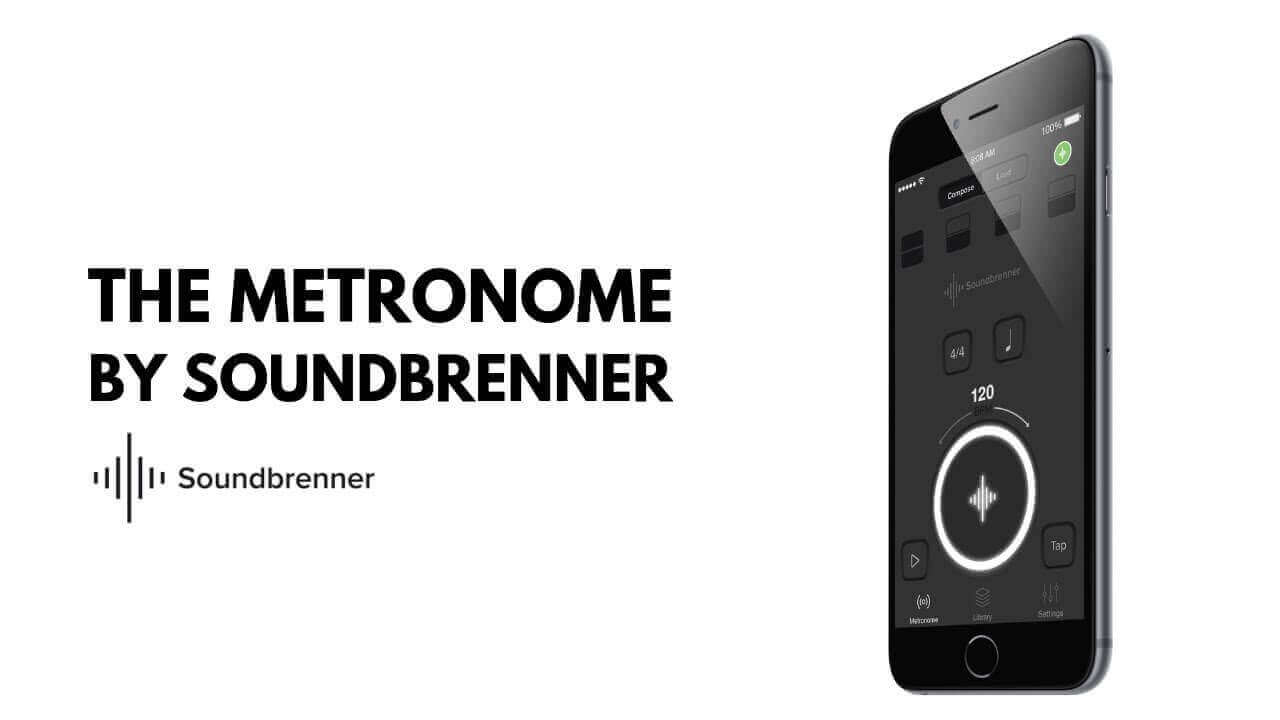 A metronome is an essential component that every drummer (and musician) needs while practicing. The Metronome by Soundbrenner is one of the best drum apps and speed trainer that comes in handy in all situations whether you are composing tracks, playing along to popular songs, or simply jamming out.
The compose section of the app features a basic digital metronome, replete with tempo variations, multiple time signatures (4/4, ¾, 6/8, etc), song duration, and the rest of it. Furthermore, you can also make use of the tap tempo feature to set your own custom tempo whilst recording new drum tracks.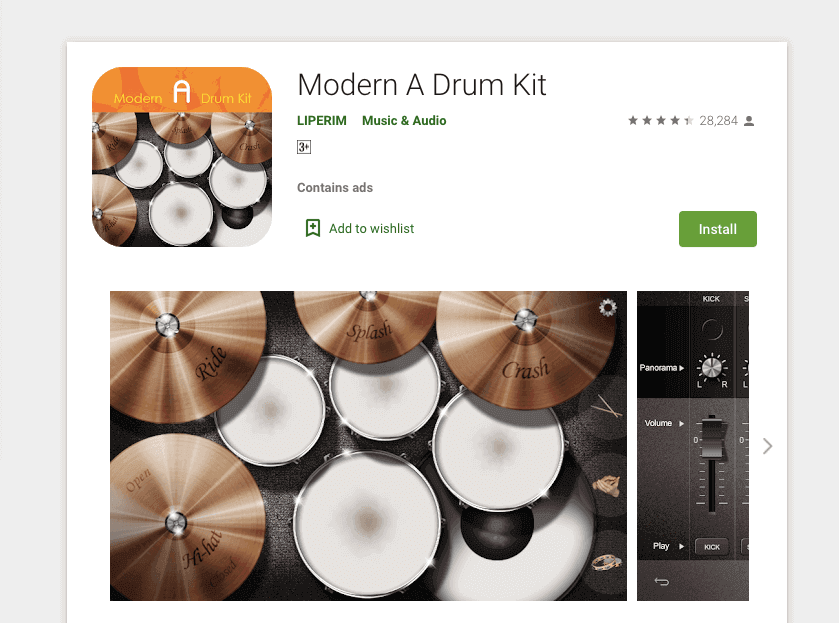 If you want to emulate the stereo sounds of a modern studio drum kit on a mobile app, then Modern A Drum Kit is a formidable drum machine. This powerhouse drum app boasts many reverb effects, 16-bit uncompressed drum samples, and a multiband mixer with panning and volume control options. 
What's more, Modern A Drum Kit also features a range of presets in various genres. Hence, drummers can easily along with diverse drum kits that offer realistic sounds, high-speed responses and smooth finger drumming.
9) WeDrum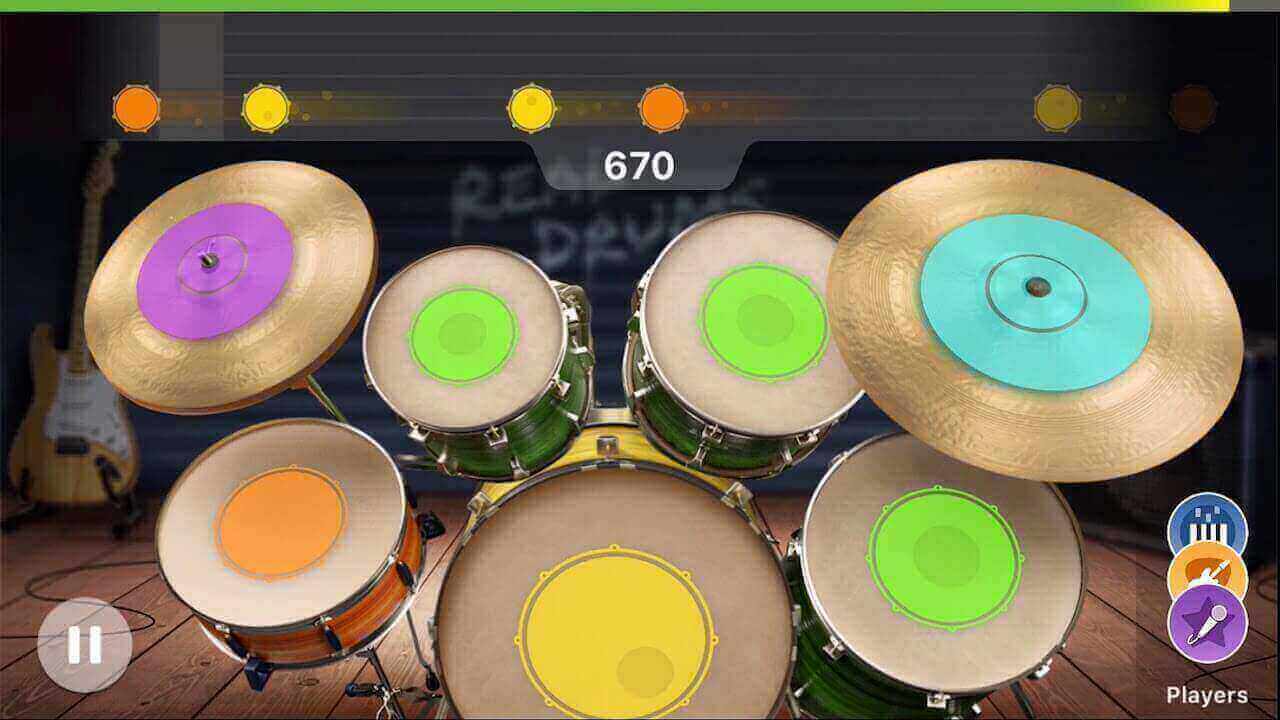 Without any prior drumming lessons, you can instantly start playing drums and jam along with friends on this free drumming app called WeDrum. It is best fit for novice as well as intermediate drummers and makes tracking drums a fun process.
Furthermore, WeDrum simulates eclectic drum kits from multiple genres and lets you play along with your favorite tunes. The app also boasts a crowd cheer for boosting your confidence as you play in time to your favourite drum tracks. All in all, WeDrum is one of the best drum apps for Android users.
10) Songsterr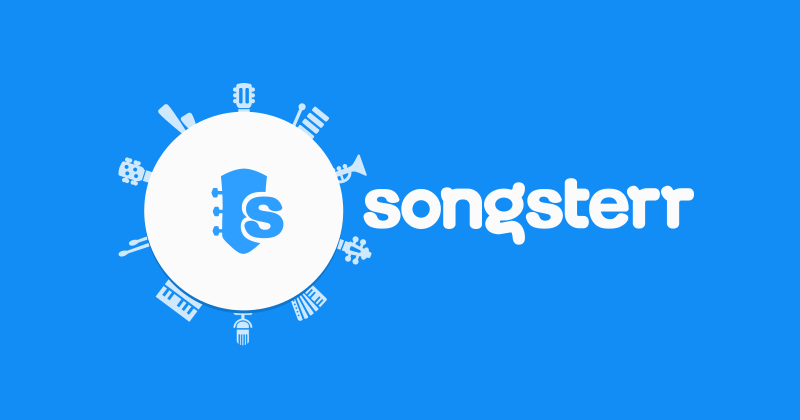 Although Songster is predominantly much more than a drum app, it can invariably be useful for learning drum tabs, playing by ear and much more. Which is why it regularly features amongst the 'Best Apps for learning to Play Music'. 
Aspiring musicians and drummers can make use of Songsterr's massive catalog of over 500K Drum Tabs of modern popular songs to classic rock. Moreover, Songsterr also features a solo mode as well as a multi-instrument mode for jamming with your fellow musicians.
And..that's a wrap! Did you like our list of the best drum apps for Android, iPhone and iPad? Sound off in the comments.