Most Android smartphones these days come with a default music player that doesn't offer much in terms of customisation and ease of use. More importantly, these default players don't have an equalizer which can make or break your sonic experience. Thus, the need of the hour is an alternative music player app that can do it all. Unfortunately, most decent music players fall under the premium category. But, why waste your time looking for a premium option when you have a list of 10 of the best free music players for Android of 2022 waiting for you to have a good long peep at?
Without spending a dime on an expensive app, you can have it all with these free Android music player apps.
No matter if you are a music devotee or a casual listener, our list of best free music players for Android will take care of your sound buds and provide an immersive listening experience. Without further ado, let's get started.
10 of the Best Free Music Players for Android 2022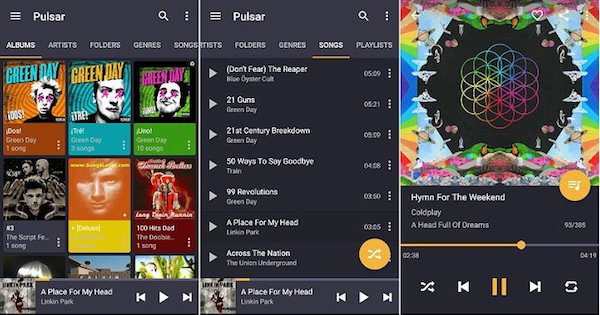 Thanks to a slick user interface with no ads and subtle animation effects, Pulsar is considered by many as one of the best free music players for Android on the market.
For starters, users can add a dash of creative flair to the UI by customizing it with diverse colour themes. Also, Pulsar sports a library view that can be arranged by genre, album, artist or folders.
Wait there is more in the offing! Pulsar has nifty features such as gapless playback, Chromecast support, built-in tag editor, home-screen widget, Last.fm scrobbling, and one of the best Android equalizers on the market.
The best part is, the download file size is minuscule so you won't have to fret over storage space constraints.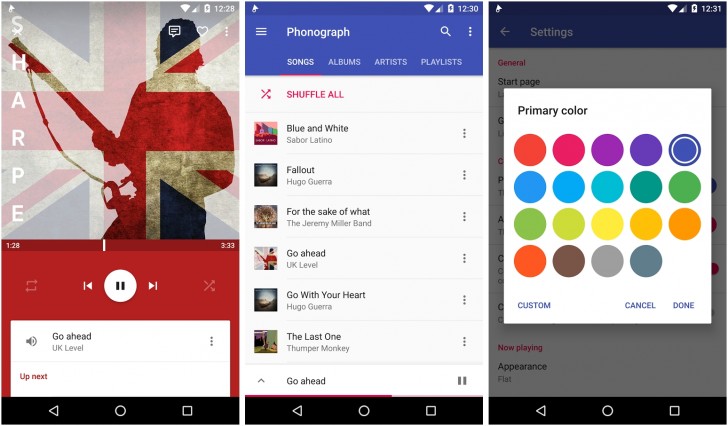 With a constantly changing UI, beautiful design and uber clean layout, Phonograph is every music lover's dream come true.
One of the novelty factors that make the app visually endearing is its UI that dynamically matches the colour on screen according to the song's Album art.
It does help that Phonograph comes with abundant themes that can all be customized as per your liking through its theme engine.
Not to mention, Phonograph automatically downloads missing information of your albums, songs, album art, and provides a nifty tag editor for editing title, artist, and album tags on the go.
You also get to avail a sleep timer, gapless playback, lock screen controls that make Phonograph a must have in your arsenal.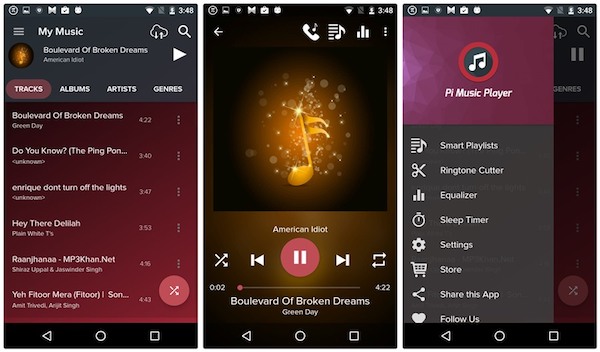 Loaded to the brim with some incredible features such as Ringtone Cutter, sleep timer and widget support, Pi Music Player is a solid contender on our list of best free music players for Android.
You can choose from over 4 mesmerizing themes at startup as its mega smooth and intuitive interface ensures zero navigation problems.
Subsequently, you can start playing music from various library views sorted via artists, albums, playlists, tracks, genres, and folders that can all be shared with users across the world thanks to Pi Power Share feature.
Not to mention solid features such as an inbuilt 5-band equalizer, Bass Boost, 3D Reverb Effects, Virtualizer, and 10 amazing presets that soothe the tastes of every genre lover from trap, hip hop to heavy metal, rock n roll, and progressive rock.
Albeit, Pi Music player has one downside in the form of intrusive ads that might hamper your streaming experience.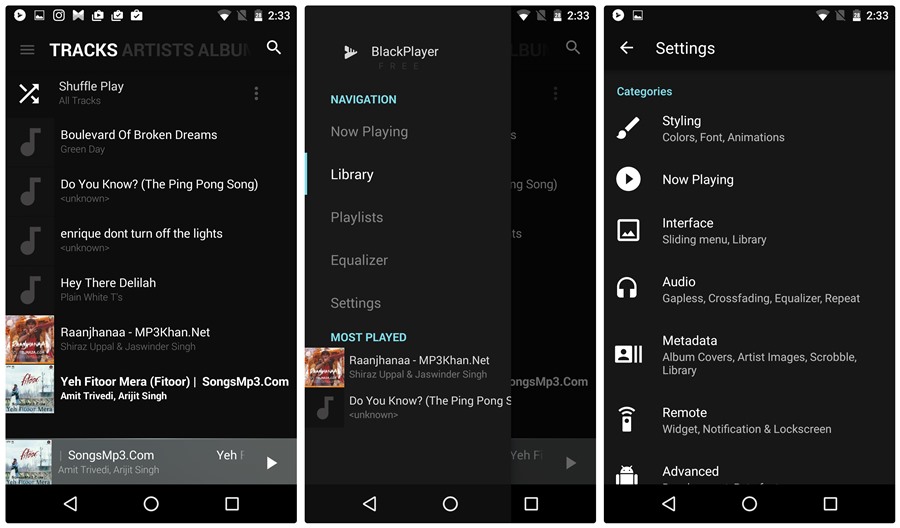 Another decent music player with a custom interface that can be controlled through neat swipes and gestures, BlackPlayer is one of the best free music players for Android on the functionality front that also guarantees sonic pleasure.
This handy music player comes loaded with a built-in 5-band equalizer, Bass boost, Gapless playback, Virtualizer, 5ID3 Tag editor, widgets and a Sleep Timer.
Moreover, besides MP3, BlackPlayer also offers support for standard local music file formats such as WAV and OGG.
You would be delighted to know that BlackPlayer is also completely ads free and you can even change its UI colour and fonts through custom set values.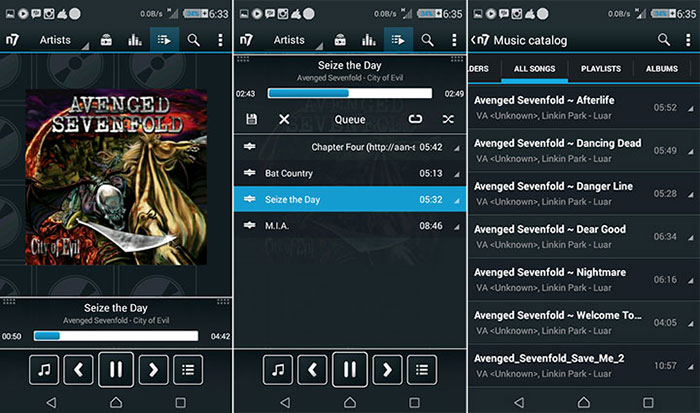 Sporting an ingenious surface search bar on an immersive interface with zoom-in and out functionality, n7player Music Player is a popular option for many Android lovers.
For starters, n7player packs in a customizable 10-band equalizer that can soothe your music cravings – from grunge, metal to trap and grime.
Of course, it comes loaded with rich features including bass boost, sound virtualization effects, gapless playback, tag editor, and a nifty sleep timer.
Furthermore, you can also choose from numerous themes that offer immersive graphics. The only downside is the free version is available for a trial period of 14 days after which you will need to pay a meagre amount to enjoy these premium features.
6) PowerAmp
This app needs no introduction. A through and through music player for Android fans, PowerAmp takes the functionality game up by several notches.
Adorned by a beautiful UI that can be further embellished with custom downloadable themes and widgets via Google Play Store, PowerAmp is a must have if you love listening to music on your smartphone.
PowerAmp also offers several playback options such as gapless playback, tag editor, crossfade, etc.
You can also customize your themes and stumble across powerful widgets that make your navigation more seamless. All together, PowerAmp is indeed one of the best free music players for Android that strikes the right chord with users.
7) MusixMatch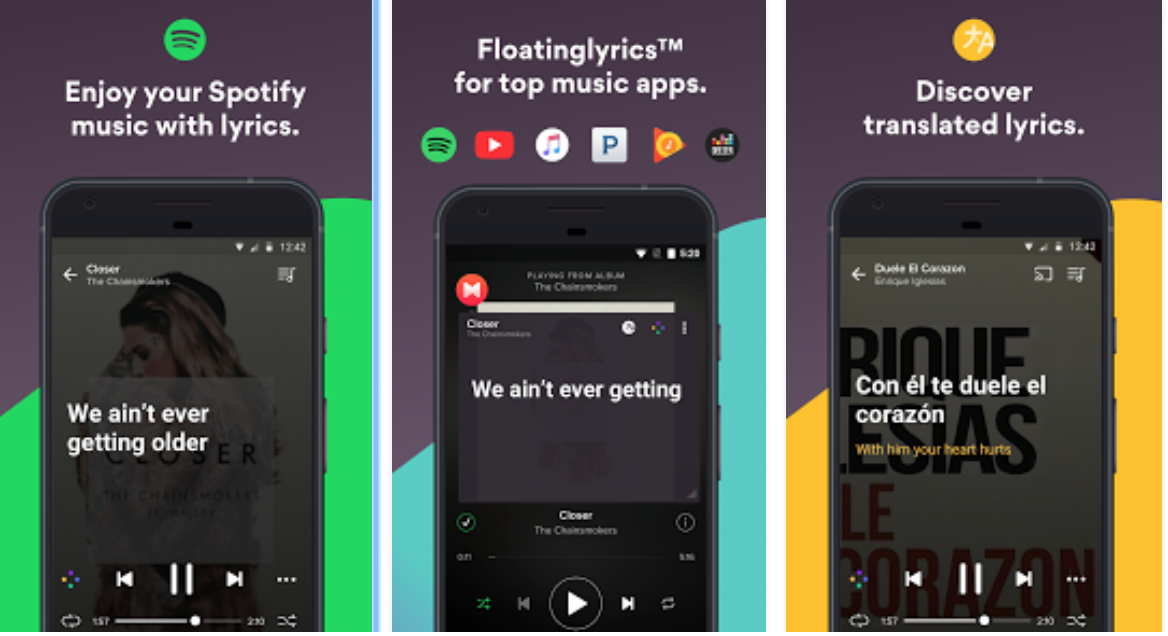 Are you an ardent fan of massive singalongs? Say no more for MusixMatch is your go-to player.
This sick app offers a floating lyrics widget that spits out synced lyrics in real-time so that you can enjoy singing your heart out to your favourite tunes.
So much so, you can even view the lyrics whilst using streaming services such as SoundCloud, Spotify, and Apple Music.
Furthermore, MusixMatch identifies lyrics to a song playing in your vicinity intuitively and helps you search songs by typing in a single line of lyrics.
However, the only downside with the free version of MusixMatch are ads which can get annoying if you don't purchase the premium version.
8) Musicolet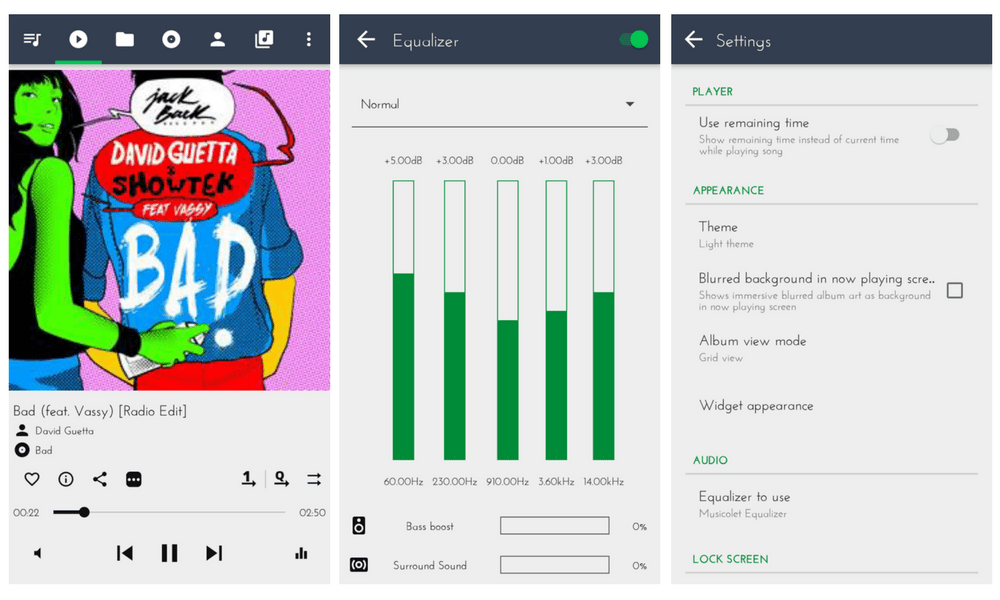 A very lightweight app, Musicolet offers an intuitive clutter-free GUI with no ads and some rich and interesting features. For starters, you can devour a barrage of features such as an equalizer, tag editor, sleep timer, widgets and lyrics support.
But the real novelty trait of Musicolet is that it allows users to control screen with minimal click/tap action.
For instance, with a single tap you can pause/play a song, double tap for next song, and triple tap to rewind to the previous track. Moreover, you can also fast-forward the current track with 4 or more repeated taps.
This splendid app also supports multiple playing queues for quick access to tracks, albums, artists and playlists. All in all, Musicolet is one of the best free music players for Android you can have a good peep at.
9) MediaMonkey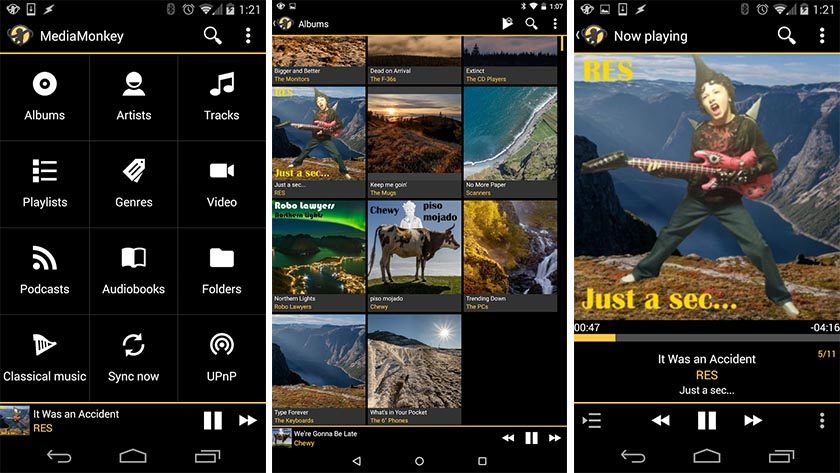 Banking on a super-fast search algorithm, MediaMonkey is a popular feature-laden app that predictively displays songs, artists and downloads missing lyrics and album art.
Not to mention, it boasts a 5-band equalizer with stereo balance, a tag editor, sleep timer, home screen widgets and support for chromecasting.
Moreover, MediaMonkey's library separately displays audiobooks, podcasts and allows you to view the seek bar of a song in the notification panel akin to Google Play music.
And, did you know that MediaMonkey also allows you to sync this Android app with the Windows version? Sweet.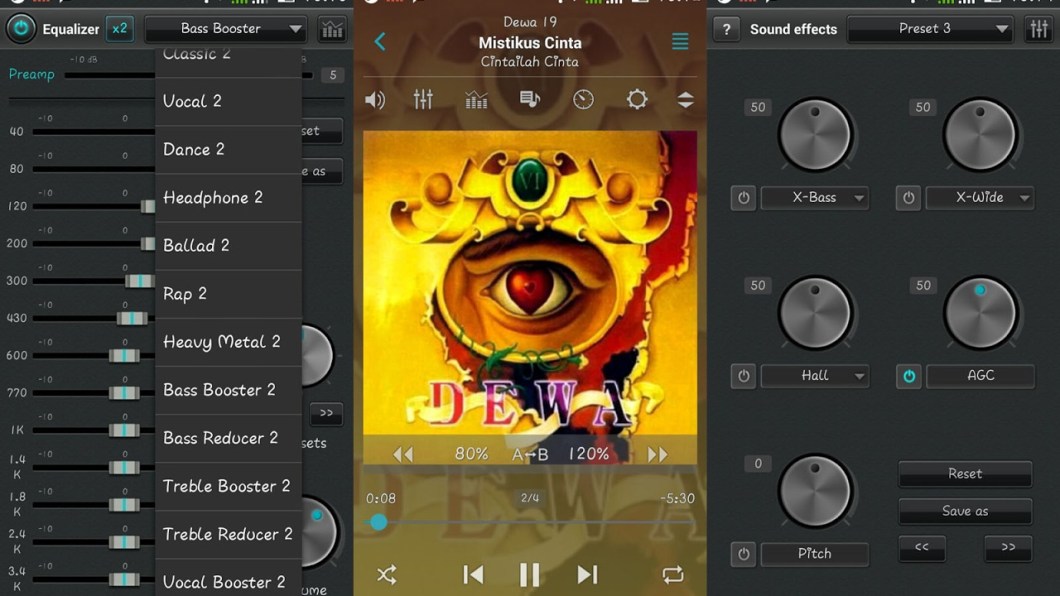 Perhaps one of the oldest apps on our list of the best free music players for Android, jetAudio still retains the mojo when it comes to packing the perfect sonic punch.
Sporting a variety of audio enhancements such as plugins and over 32 presets, users can tweak the app as per their musical preferences. The layout and interface are easy to scroll through and further add to the quaint charm of the app.
To top it all off, jetAudio supports MIDI playback and comes with a decent equalizer, tag editor, and offers much needed bass boost as well! Albeit, its freemium version displays ads which is a disappointment.
And…that's a wrap!

Did you like our list of the best free music players for Android? Sound off in the comments. Let's stir it up.