Nowadays mobile phones have become multi-pronged utilities that can do a smorgasbord of tasks. With the advent of technology, smartphones can now also display and detect the pitch of musical notes. Especially for music enthusiasts, smartphones can be used as nifty tuners that can tune not just guitar but other instruments as well. But, finding a decent free tuning app is a painstaking proposition. Especially when you are a budding guitarist, you ought to find the best guitar tuner app from a sea of options.
But fret not, we have collated a list of 11+ decent free guitar tuner apps of 2022 for Android and iPhone that will take care of your tuneage. Some of these iOS apps are compatible with Mac so you might want to try them out as well. So, are you ready to download away all the gold? Let's get started fellas.
Best Guitar Tuner App in 2022: 11+ Free Android & iPhone Apps List
1) Boss Tuner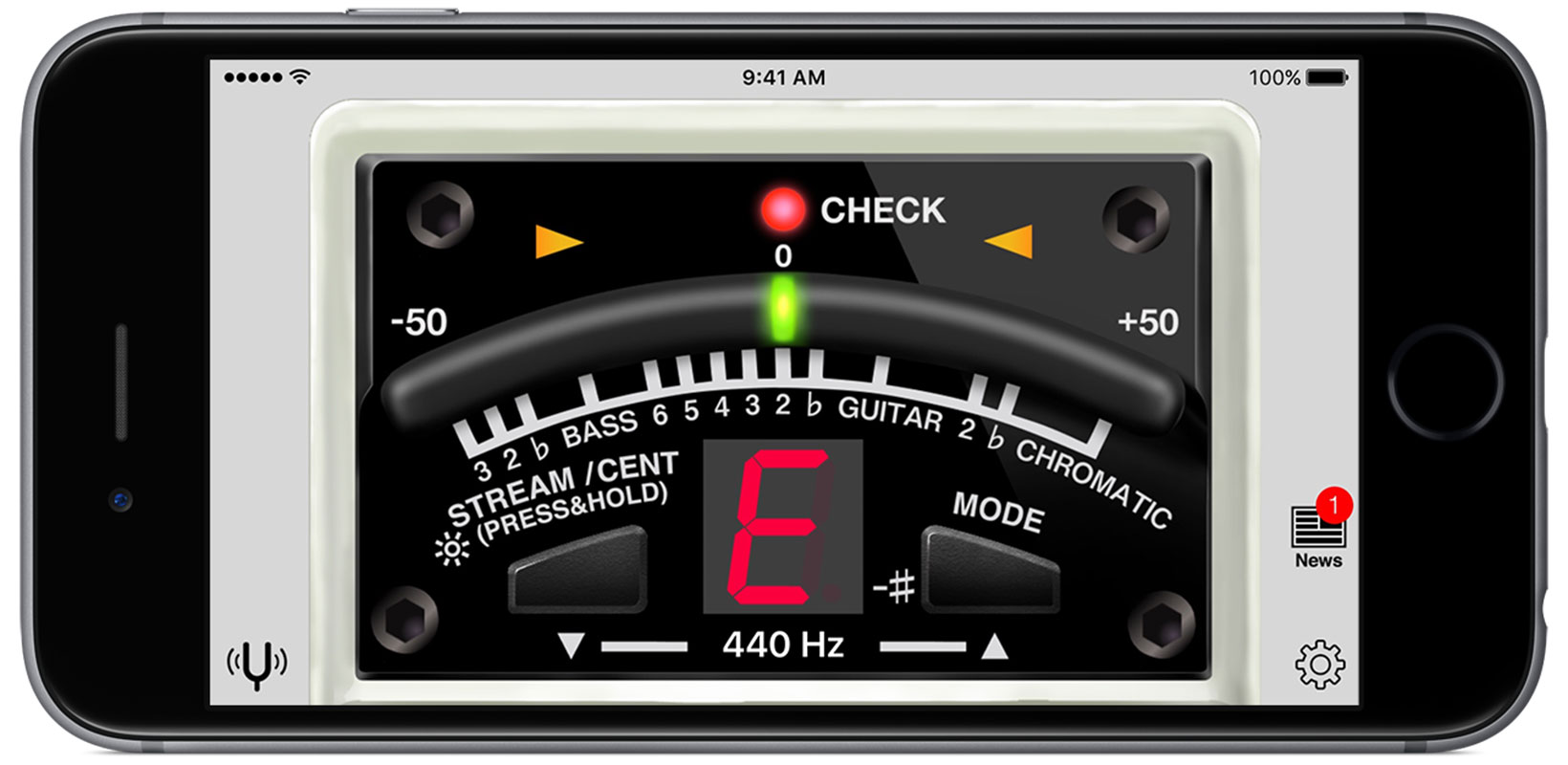 Bringing trusted chromatic tuning technology to the fore, Boss Tuner boasts the display style of the TU-3/TU-3W pedal tuner and is very easy to use. Apart from guitars, you can tune a gamut of musical instruments via this app such as ukulele, cello, bass, and brass. It's a great violin tuner app as well.
Not to mention, Boss Tuner also offers nifty hands-free chromatic tuning in horizontal view with support for multiple tunings including Drop D, Drop C and even Drop A. Boss Tuner is available for both Android and iPhone users.
Download app for: iPhone
2) GuitarTuna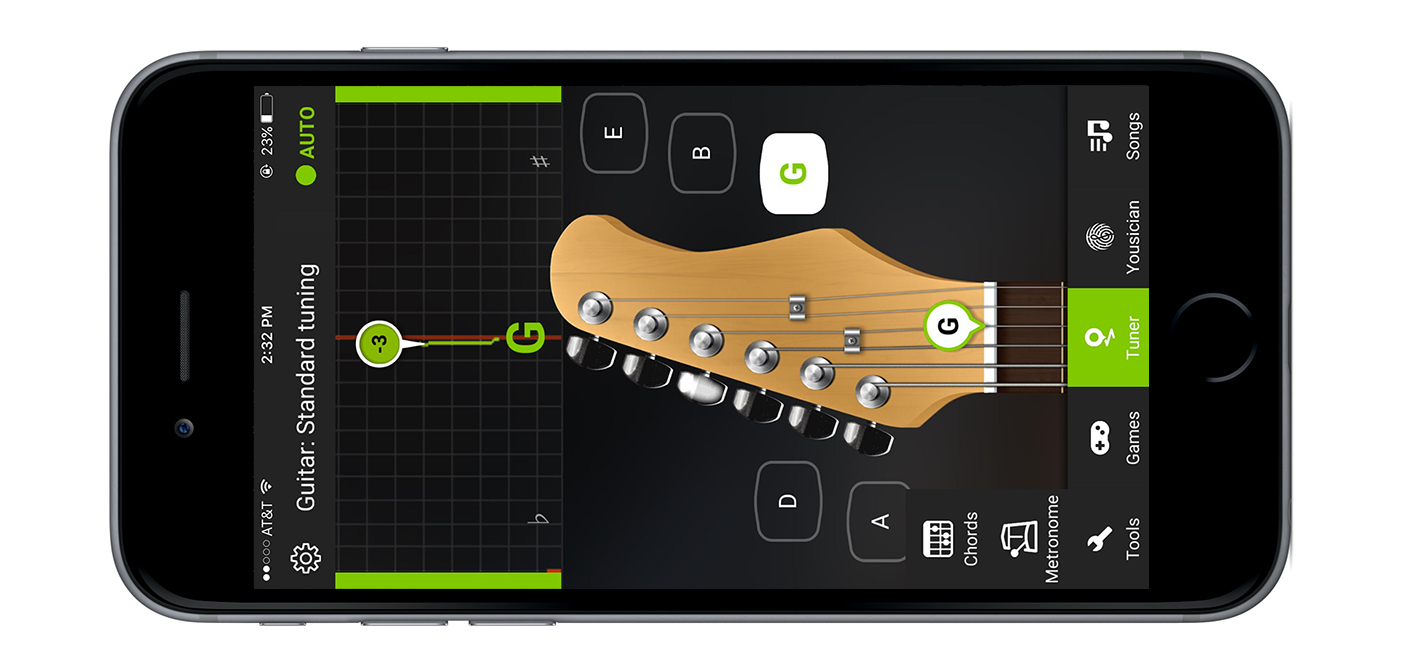 Renowned as a fast, easy and accurate tuner app, GuitarTuna is also incredibly popular amongst guitarists of all hues. For starters, it works like a charm for acoustic/electric guitars, bass, banjo, mandolin, cello, and dozens of other string instruments. In fact, you wouldn't need to rely on guitar cables since the app features built-in microphones. Furthermore, Guitar Tuna also boasts a chromatic tuner and supports over 100 different tunings with pitch precision.
The best part is GuitarTuna works pretty well in noisy surroundings thanks to its background noise cancellation technology. All together, GuitarTuna is the best guitar tuner app for both beginners and professionals alike.
Download app for: iPhone
3) Pano Tuner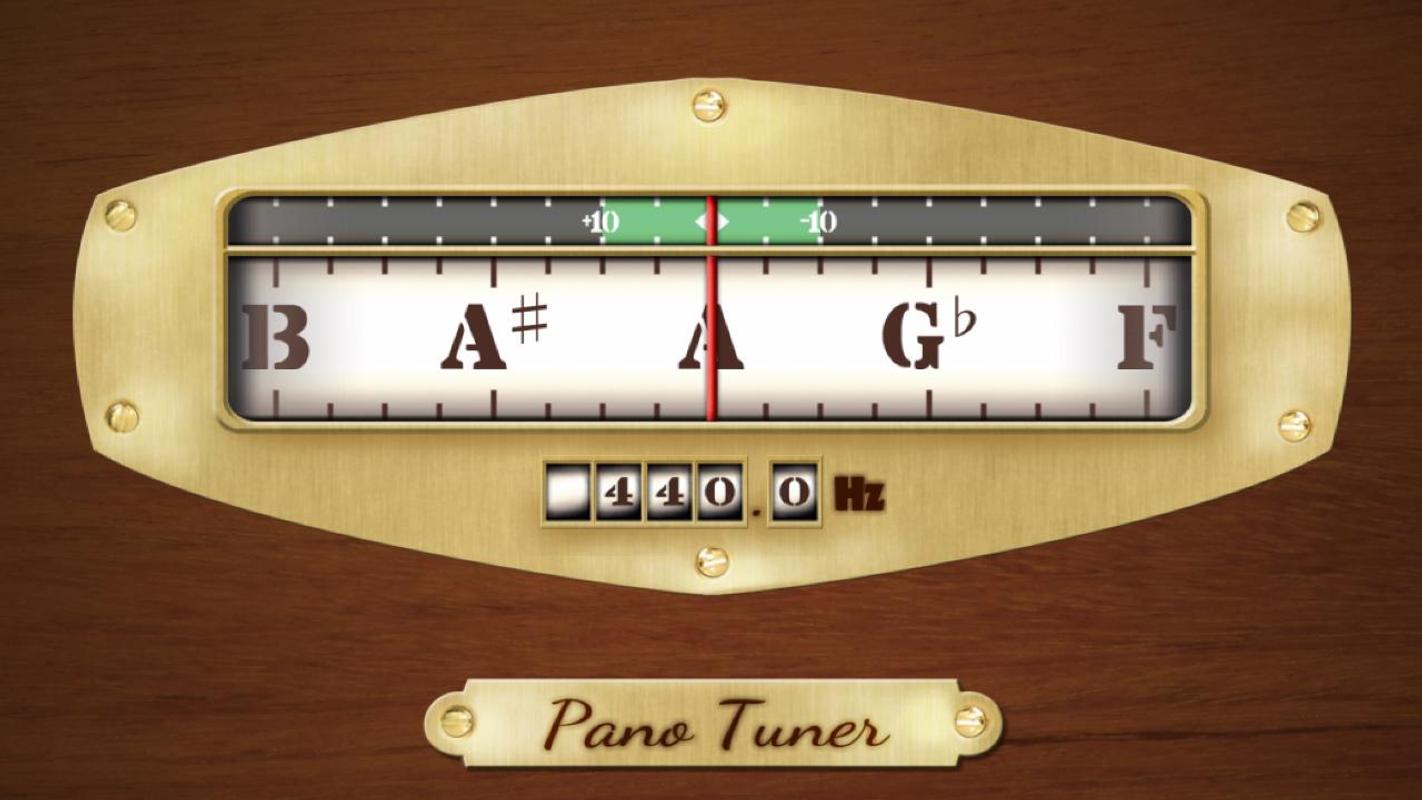 A staple tuning app for both Android and iOS users, Pano Tuner offers consistent and accurate results besides being ridiculously ease to use. You can dial in precision settings for different contexts, for instance, quick tune-ups for jam sessions on the fly, or extreme precision for a new recording project.
Pano Tuner also supports non-standard Drop D, Drop C, and even Drop A tunings. The only downside is you will have to put up with intrusive advertisements.
Download app for: iPhone
4) gStrings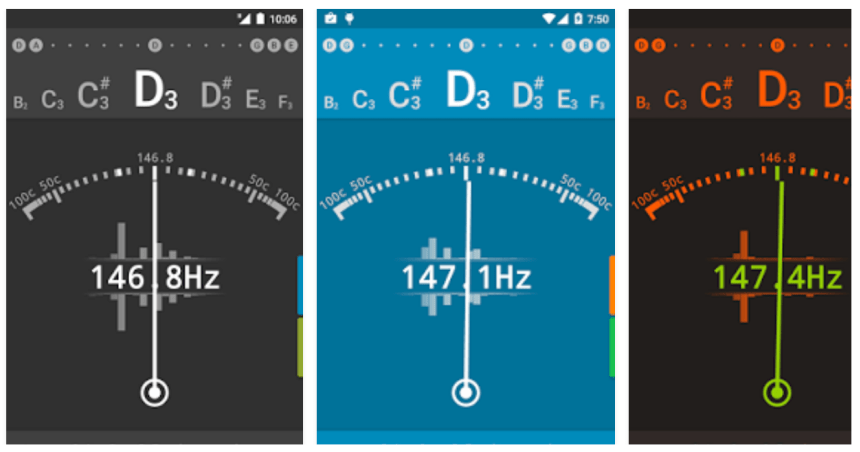 A solid chromatic tuner to the brim, gStrings is renowned for its accuracy of pitch detection and features a snazzy dial-style tuner. In fact, you can also customize microphone sensitivity settings, and app themes. Apart from acoustic/electric guitar, gStrings can also tune a wide array of instruments such as piano, violin, and bass.
But the real novelty factor that makes gStrings perhaps the best guitar app out there is that its UI is pretty spic and span, user friendly and works like a charm.
Download app for: iPhone
5) PitchLab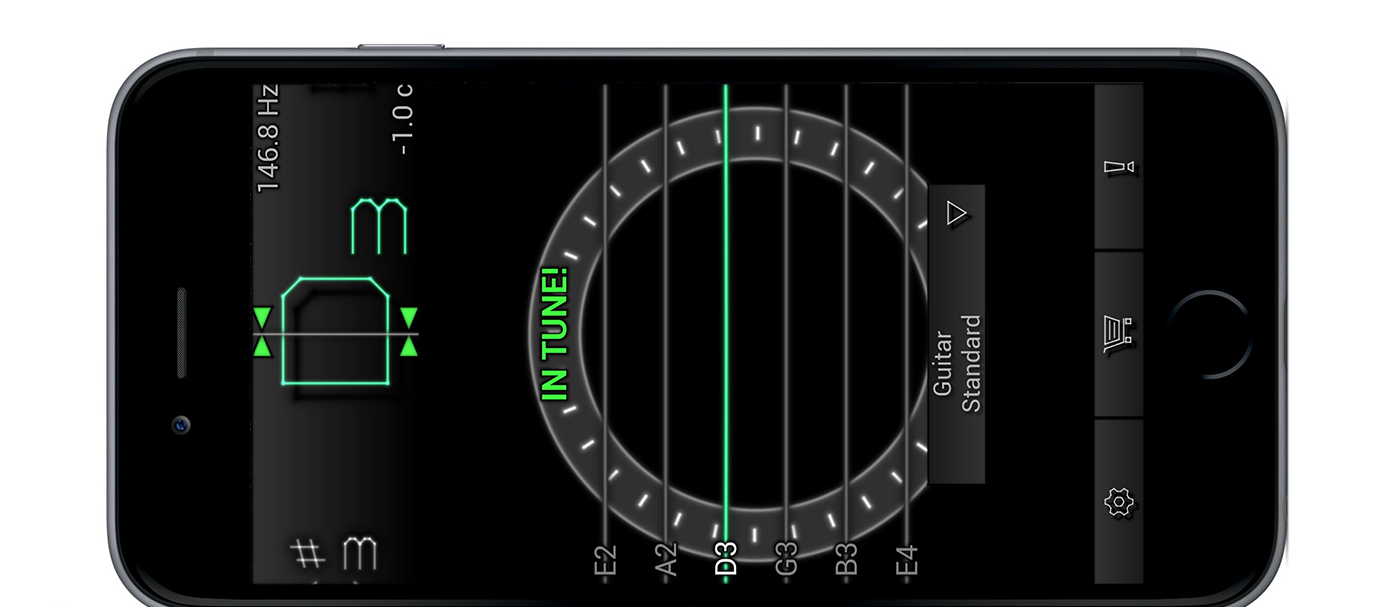 With countless fancy display modes, PitchLab ensures that you can analyze pitch variations, subtle harmonies and waveforms in real-time and tune your guitar like a pro. What makes it perhaps the best guitar tuner app for both iOS and Android devices is that it provides very accurate tuning with sensitivity in a wide frequency range.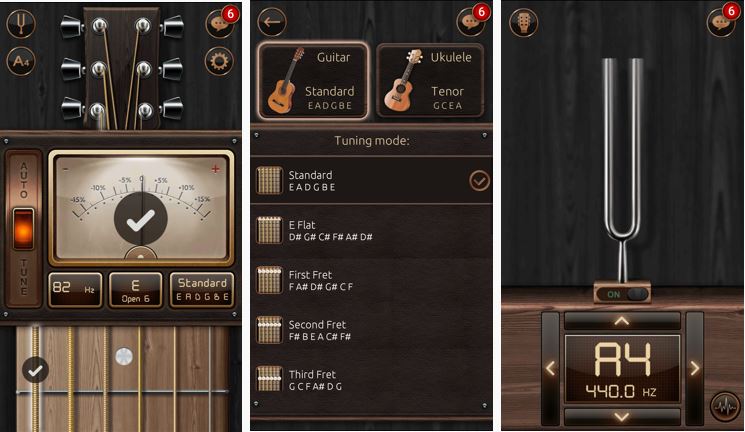 Symbolic of its name, Chromatic Guitar Tuner sports a decent interface and offers good functionality for chromatic tuning on the go via a digital tuning fork. What's more, the app supports acoustic/electric guitar, banjo, ukulele, bass, violin, and other string instruments.
However, it does contain advertisements which could be off putting for some users.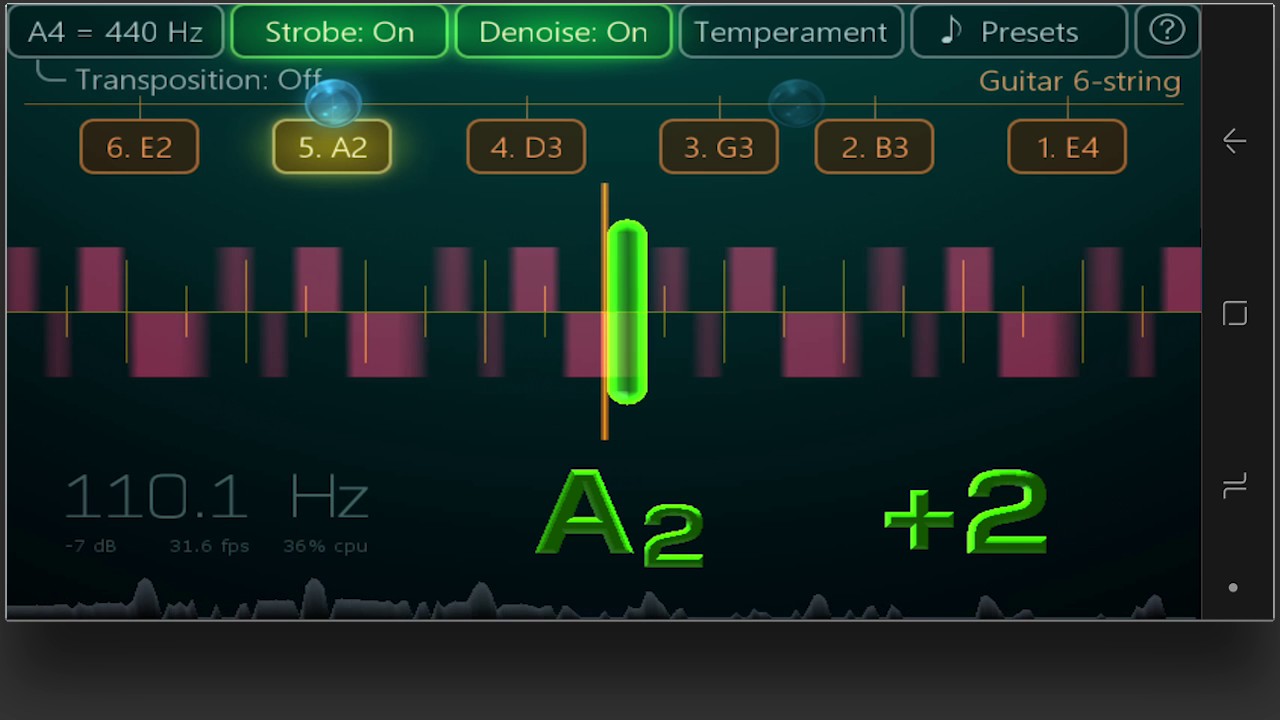 With its ability to tune over 400 orchestral instruments including harmonica, flute, violin, piano, saxophone, bagpipe, veena, trumpet, clarinet, cello, harmonica, ukulele, bass, mandolin, banjo, and guitar (of course) Airyware Tuner is a must-have utility on your Android and iPhone/iPad.
In fact, this app is preferred by luthiers since it is efficient, accurate and fast.
Download app for: iPhone 
8) Yousician
If you are seeking step-by-step tutorials for learning guitar, ukulele, bass or even piano, look no further than Yousician which is the best guitar tuner app for beginners. What's more, this free app also provides relevant feedback after you have played a chord or two.
Download app for: iPhone
9) Tuner Lite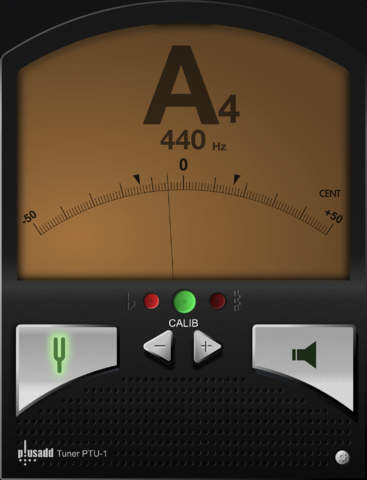 A decent app with built-in microphone, Tuner Lite is a renowned chromatic tuner and pitch pipe/tone generator that accurately tunes your instrument in a jiffy. Besides Acoustic/Electric guitar, the app can also tune a gamut of instruments including piano, bass and tympani.
It also features some pretty cool add-ons such as needle meter display, and mega-responsive 50 cents range fine tuning LED display for easy tuneage.
10) InsTuner Free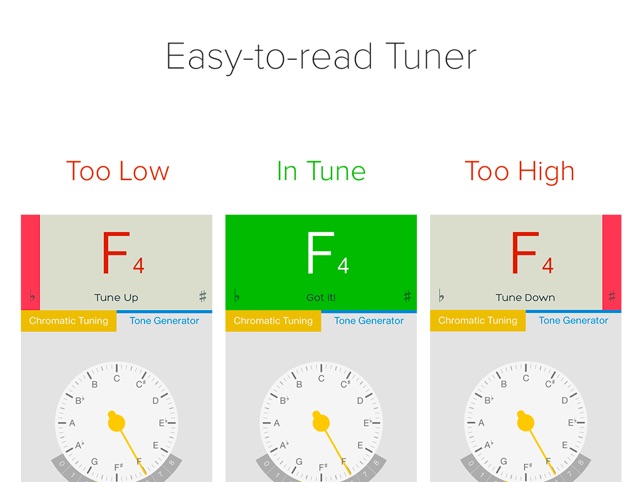 Perhaps the best guitar tuner app insofar as chromatic tuners are concerned, InsTuner is pretty accurate with the tuneage and supports a melange of musical instruments from acoustic/electric guitar, bass, to mandolin, ukulele, banjo, and woodwinds.
The app boasts an inbuilt Microphone and provides real-time spectrogram mode and fine tuning mode which boasts a highly responsive tuning meter to ensure accurate tuneage.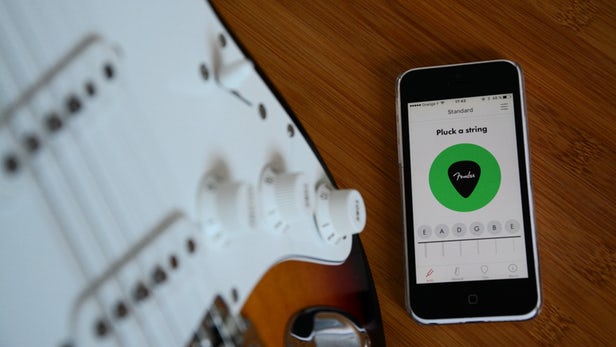 A somewhat basic app, Fender Guitar tuner nevertheless gets the work done in style. With support for over 22 different tunings, auto-tune mode, and separate tuners for acoustic and electric guitars, you wouldn't want anything more. Also, you can also deploy the Chromatic mode for freestyle tuning.
Download app for: iPhone
And…that's a wrap! Were you able to pick the best guitar tuner app for yourself? Sound off in the comments. You might also want to check out these amazing Best Beat Making Apps for Android & iPhone.