The good ol' days of streaming music with zen-like experience on your native iOS music player are long gone. Now, it has become a dodgy gateway for Apple Music that you just can't get rid of. Luckily, there are some amazing third-party alternatives that can take care of your tuneage for FREE! But, how does one find a decent music player in a sea of bogus apps that posit themselves as the "best free music player app for iPhone" and whatnot? By going through our roundup of the best music players for iPhone that are free, of course!
Note: We collated this list based on several benchmarks including gesture control, responsive UI, equalizers, et al. All the apps on this list of best music players for iPhone are not ranked in order of their importance, so, choose per your preferences. You can also check out this pretty cool list of free music download apps for iPhone that will definitely expand your song library.
10 of the Best Music Players for iPhone 2022 (FREE)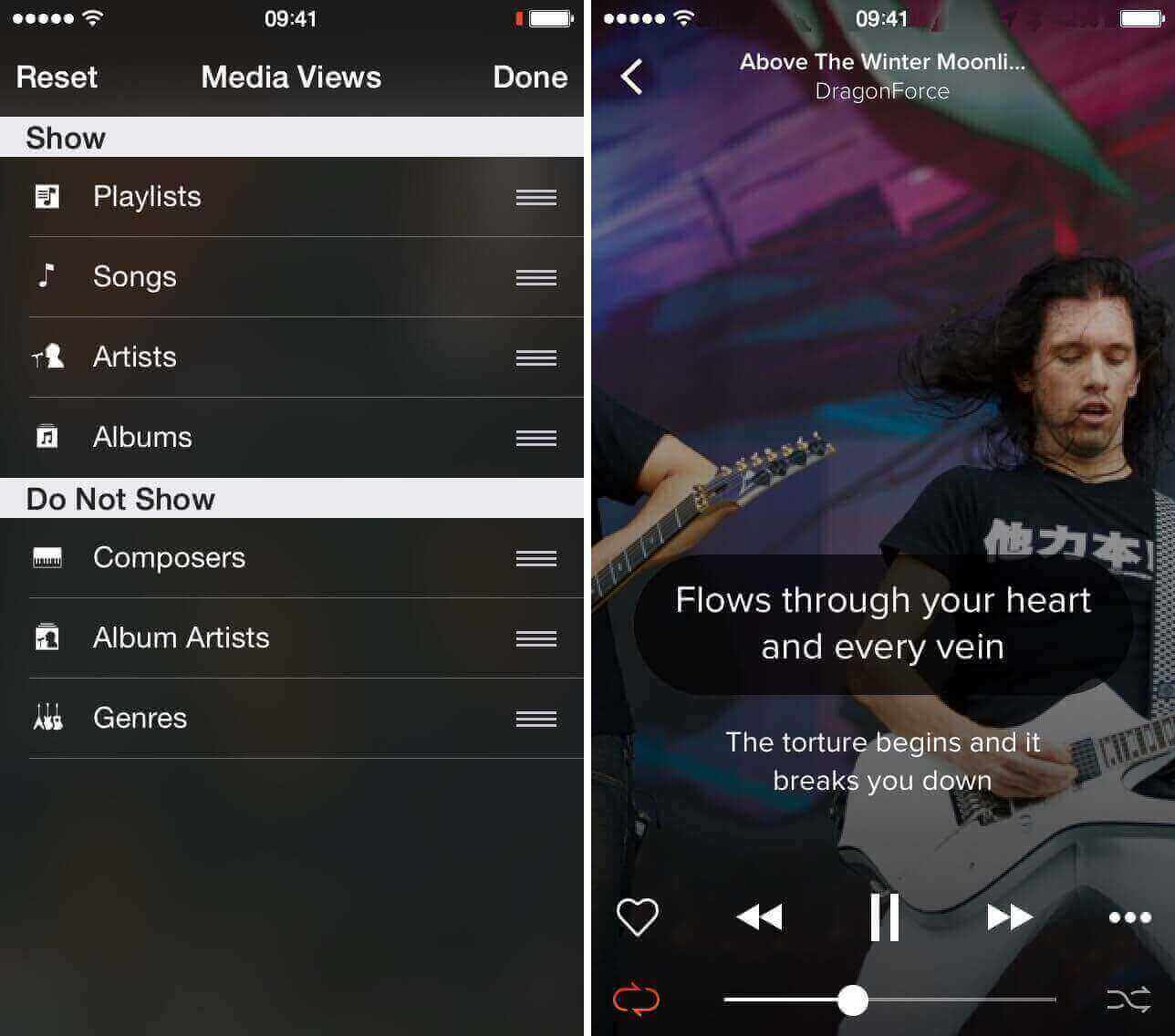 Sporting a clever display with a splendid 3 columned view for songs and playlists, Marvis music player packs the right looks to entice users at first glance. In fact, the artist and album images are shown on the cover whilst you enjoy your tracks featured in a listicle format.
What's more, you can swiftly swipe between multiple screens on the app's dark theme to make navigation more immersive. But, the real novelty factor for Marvis is that instead of segueing to a new view when you tap on an album/artist, it expands the album content right beneath to reduce unwanted clicks. 
2) Jukebox Player (Best offline music player)
Originally touted as one of the best iPhone music players for Dropbox without WiFi connection, Jukebox has quickly risen through the ranks in a short time. Now the app can be customized to play music spanning tons of eclectic genres from heavy metal, psychedelic rock to trap and jazz.
All this is complemented by an intuitive interface and a diverse inbuilt music library that can be easily managed to locate your favourite songs. Furthermore, you can also transfer music from your computer to iPhone with a single tap for free. No more syncing with iTunes or using nagging USBs to transfer all your tracks as Jukebox makes short work of all those hassles.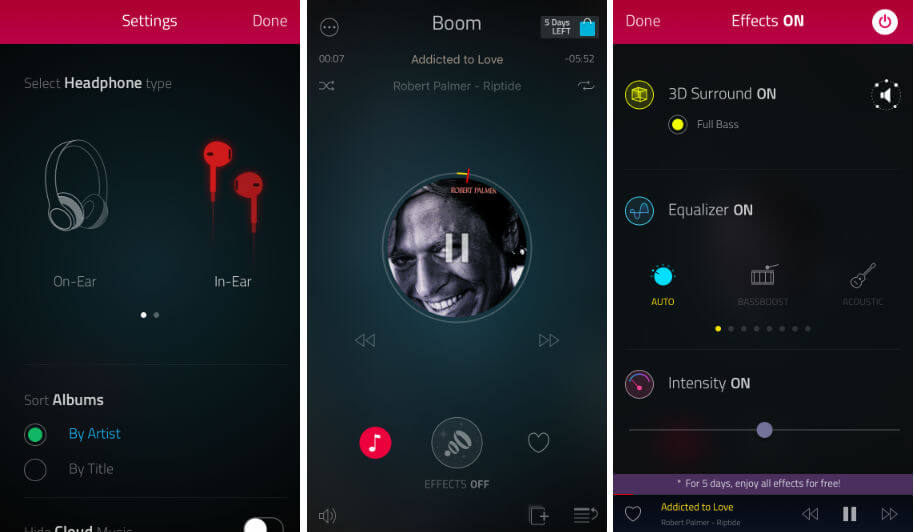 If ability of playing diverse genres were to be the sole criteria, then Jukebox would stake its claim as one of the best iPhone music players, and Beat music player would be numero uno on the playback features front. But, Boom Music player is a unique beast that blazes its own trail. With a plethora of predefined equalizers, and fully-customisable solid 5.1 surround sound for earphones/headphones, Boom is every audiophile's dream come true.
In fact, its UI is also pretty clean and hands on as users can simply do a left/right swipe to change/skip tracks. Furthermore, there's an option to choose the type of headphones in the app settings as well. All in all, a very impressive app for music lovers.
4) jetAudio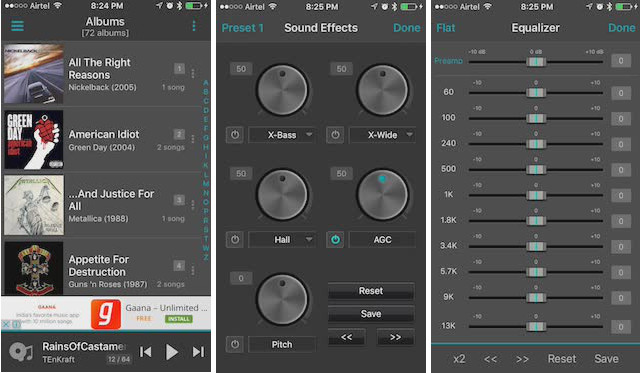 After setting up pretty high standards on the Android platform, jetAudio has stepped up the game for iOS enthusiasts as well. A very renowned music player, jetAudio boasts a ton of cool features that are hard to find in other iPhone music player apps. Sporting a dark interface, jetAudio's "Now Playing" view is adorned with an equalizer, sleep timer, and customisable sound effects that add further sonic depth to your songs.
Furthermore, this splendid app automatically sneaks into your iCloud music library and adds/pairs your favourite songs sitting there to playlists without any fuss. Guess it's safe to say, jetAudio is always raring to unleash its aural assault on your ears the moment you start it up.
5) ARIIA
Fan of music players with a minimalistic UI? Look no further than ARIIA that will tap right into your tastes with unmatched finesse. This intuitive gesture controlled app packs in diverse colour profiles with beautiful dark and light modes. So much so, its developers claim ARIIA is one of the best music players for iPhone to use whilst driving.
But really? Backed by nifty gesture controls, ARIAA lets users to simply swipe left to play the next song, or right to play the previous song without even gazing into the screen. Heck, you can even swipe one finger up/down to increase or decrease the volume. However, there is a downside with ARIAA as it is not well-versed with playlists and demands a bit of workaround to choose a playlist.
Another iPhone app that could pan out to be a true haven for minimalism fans, Beat music player sports a great design on a clutter-free UI that will hook you in at first glance. But, the real novelty factor that injects this app into our list of best music players for iPhone is that you can control it at whim with slick gestures.
For instance, you can deftly go back and forth to a playlist by pinching on the 'Now Playing' screen, adjust the volume and even change the views between songs and artists with litheness. Beat music player comes loaded with aesthetically pleasing awesome themes that add a strange element of depth to the UI? A through-and-through must have app.
7) SongBucket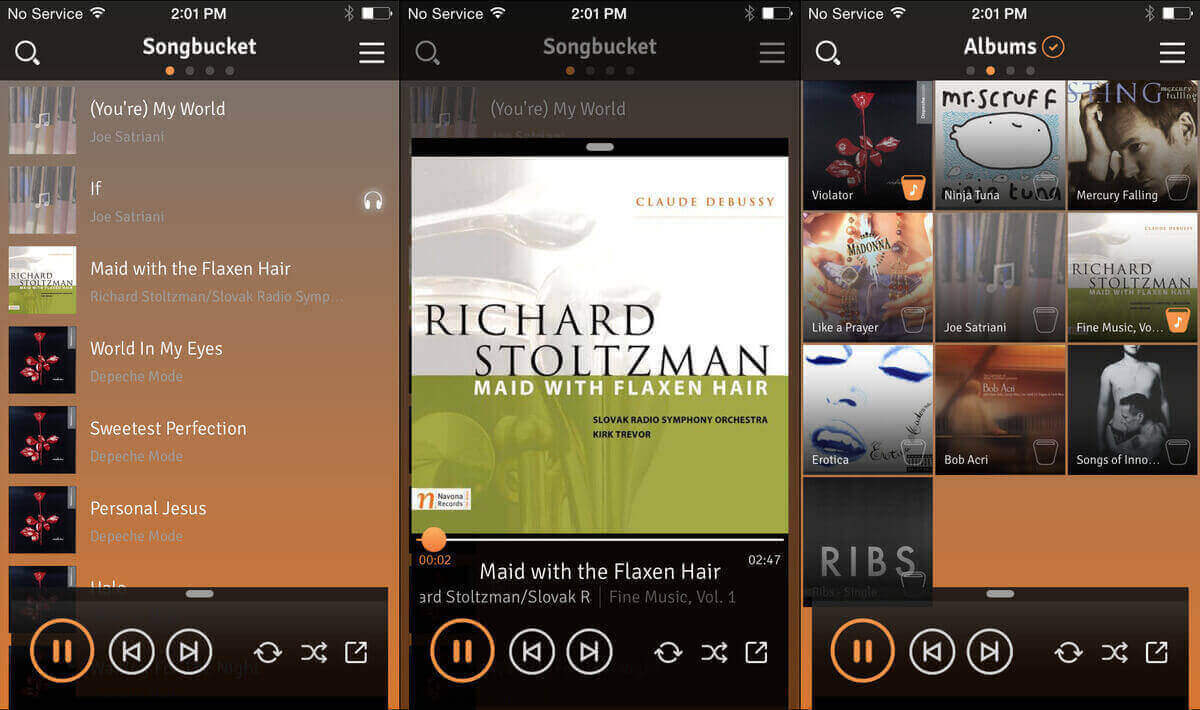 A unique and massively popular app in its own right, SongBucket is a free iPhone music player that allows users to add tracks, albums in bucket shaped widgets instead of eons-old traditional playlists. Just like creating a playlist, users can fill a bucket with songs based upon their mood or even empty it. This wonderful bucket feature gets a huge fillip thanks to a dark theme and neat UI that gels well with the theme.
What else makes SongBucket one of the best music players for iPhone? Without having to pull the "Now Playing" tab up, SongBucket lets you easily access basic controls such as play/pause, shuffle and repeat.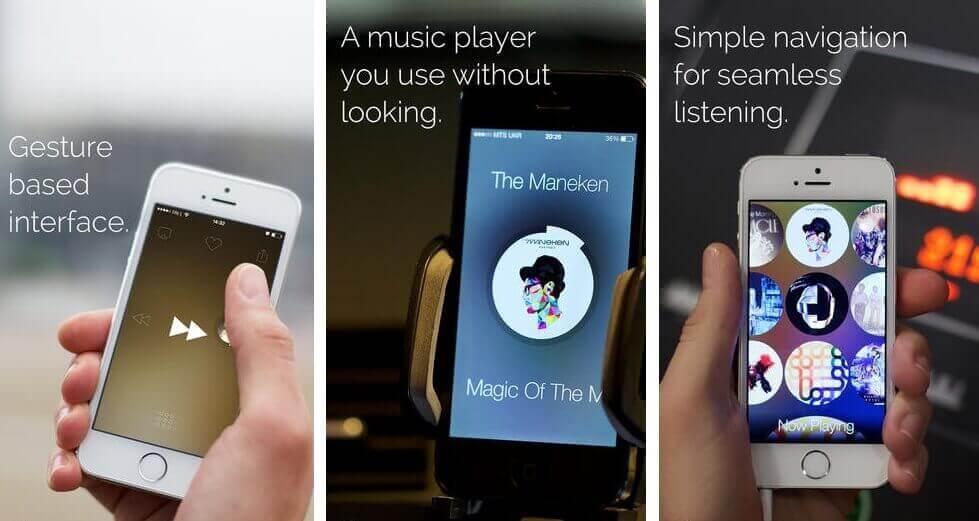 Sporting an immersive and mega smooth UI, Listen is a solid gesture based app that can display and hide songs in the iCloud Music Library with ease and grace. Also, you can quickly decide on what song you wanna listen to within the app using its ingenious toggle for "Shake to Shuffle" feature.
All together, Listen app is a promising free iPhone music player that can give you a great listening experience whilst simultaneously providing with some innovative gestures on the side.
9) Musio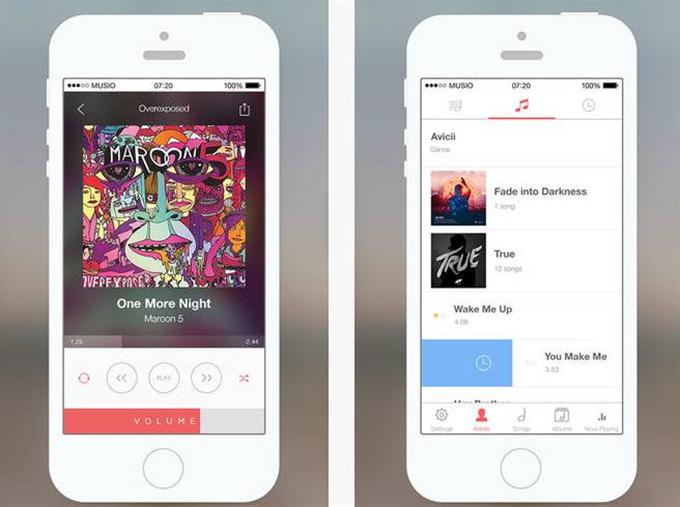 Banking on some distinctive touch features, Musio is one of the best music players for iPhone for those who prefer easy swipe gestures in email apps such as Mail and Mailbox! What's more, you can easily add hundreds of songs to a playlist by using intuitive gestures.
For instance, you can use a long swipe to remove songs from a playlist or queue whilst a short swipe adds songs to the playlist.
10) Stringer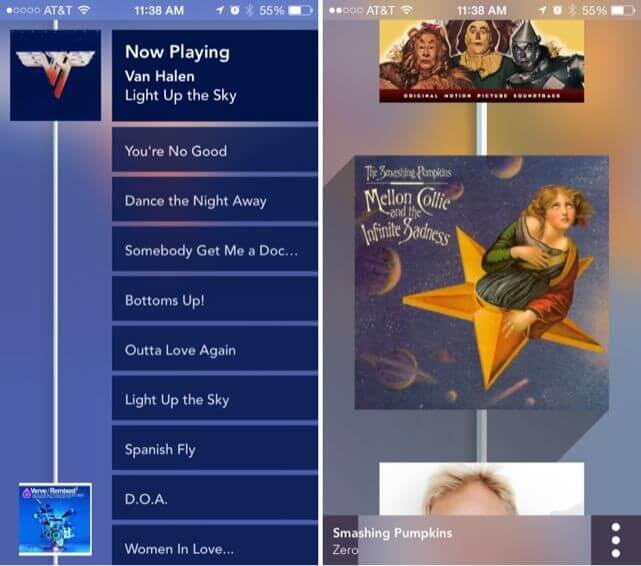 Stringer burst onto the scene as one of the best music players for iPhone that offered a new way to listen to music on your smartphone thanks to a single unified thread of songs. Eerily similar to a listicle format, you can listen to music on shuffle, build smart playlists, as Stringer automatically shuffles the entire music library in a seamless manner.
Not to mention, you retain complete control over your shuffle experience as Stringer helps you add tracks from related music or the current artist/album or simply pulls a string to the right or left.
And…that's a wrap! Did you like our list of the best music players for iPhone? Did we miss out on any apps that you know of? Sound off in the comments. Let's stir it up…