Xur has been a beloved and standup member of the Destiny 2 community since the old days. While power-creep has completely obliterated his importance, we should remember that we weren't always so blessed with exotics.
Back in the days of Destiny 1, exotics were ludicrously hard to come by. So much so that 99% of players got their hands on certain exotics thanks to Xur selling them.
Things are much different these days, but Xur remains the same. He still sells an exotic weapon and three exotic armor pieces every weekend, and he still bounces around the sol system.
Wondering where is Xur? Don't. I'll show you his location this weekend, as well as what he has for sale. I'll give you an overview of each weapon so you can decide if you want to pick them up for yourself.
Destiny 2 Xur Location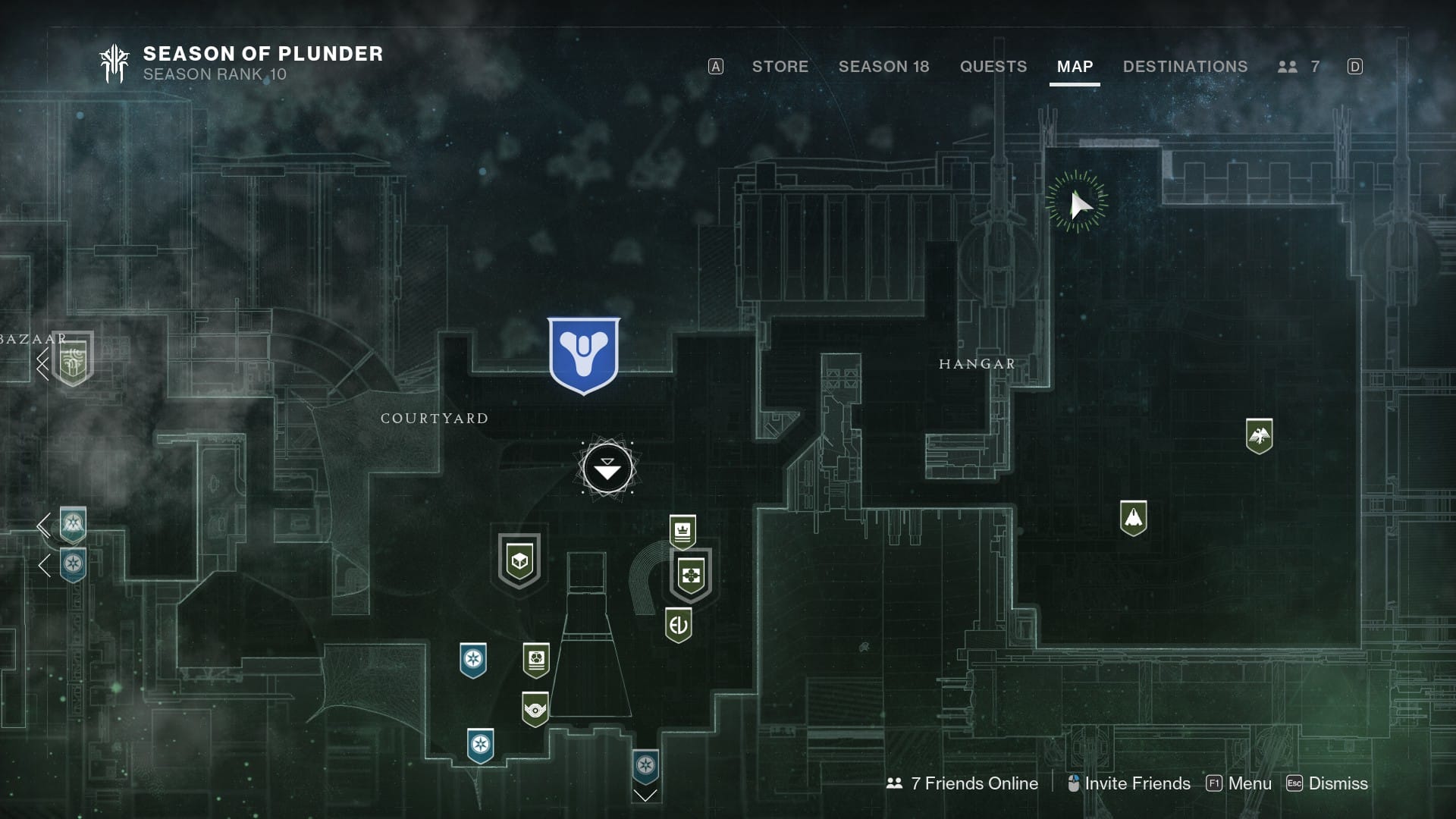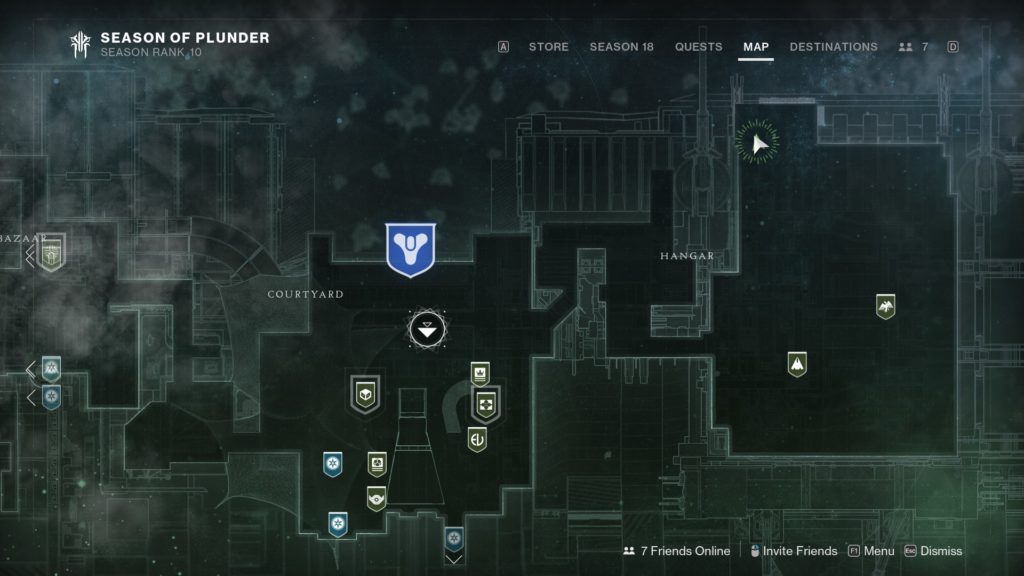 Xur is currently in the Hangar in the Tower. He's all the way at the back on some staircase behind the old Dead Orbit base. If you've visited Xur in the Hanger before, you know where this is. If you haven't, use the image above as a reference and you should be able to spot him.
Destiny 2 Xur's Inventory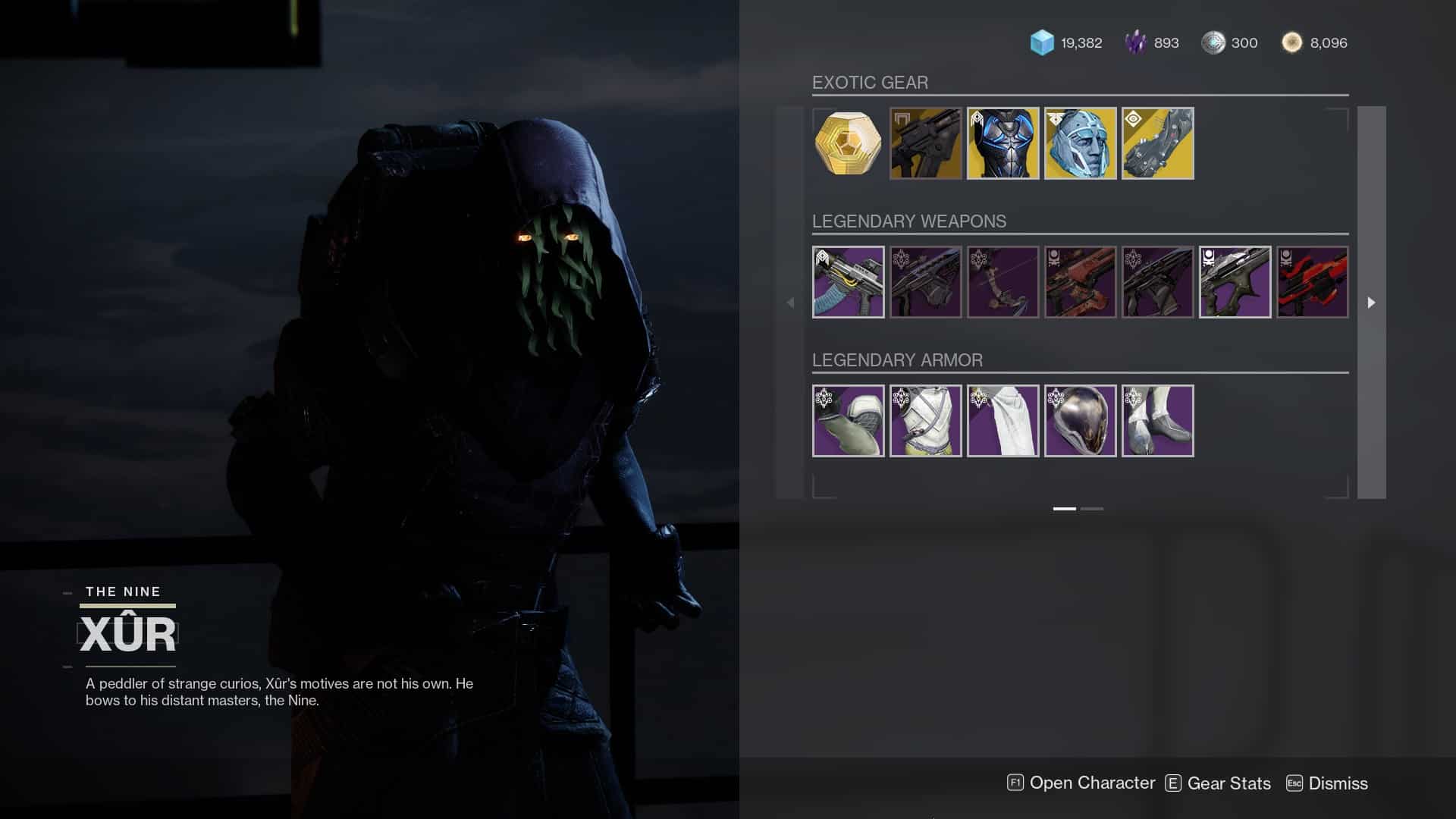 Xur is currently selling the following legendary weapons and rolls:
Seventh Seraph Carbine – Underdog / Rangefinder
Chrysura Melo – Outlaw / Dragonfly
Wolftone Draw – Archer's Tempo and Adagio
Cartesian Coordinate – Hip-Fire Grip / High-Impact Reserves
Iota Draconis – Heating Up / Adagio
Tarantula – Firmly Planted / Rampage
Frozen Orbit – No Distractions / Firefly
Out of this week's entire list, the only legendary weapon I would even remotely consider picking up is the Chrysura Melo with Outlaw and Dragonfly. As an auto rifle, both of these perks suit the weapon extremely well.
If you're a fan of auto rifles, pick up the Chrysura Melo. Otherwise, I'd leave everything here alone. Save your Shards.
Destiny 2 Xur's Exotics This Week
Of course, all of us are here for the exotics. This week, Xur is selling the following exotic weapon and armor pieces:
Skyburner's Oath
Raiju's Harness
Eternal Warrior
Aeon Soul
As is always the case, pick any of these up if you don't have them already. Skyburner's Oath, in particular, got a buff with Solar 3.0 that gave it inherent Scorch and Ignition potential, so that might be a weapon to try if you haven't before.
Otherwise, the exotic armor rolls aren't special at all. If you don't own any of these armor pieces – buy them. If you do own them all, I wouldn't waste the resources purchasing what are ultimately mediocre rolls.