One of the fresh faces coming to Genshin Impact, Nilou is an elegant and graceful lady, dancing her way onto the roster of playable characters in the near future. Setting foot off the beaten path, her love of art and dance sets her aside from other Sumeru characters who are known for their grounded rationality and wisdom, but she certainly doesn't let that stop her – and we love her for it.
But, aside from being a talented dancer, who exactly is Genshin Impact's Nilou? Well, that's what we're here to find out. We've gathered every crumb of confirmed information, along with a couple of theories and explanations, going over her element, release date, and more. Of course, we'll update this guide as Hoyoverse announces any new Nilou facts.
In preparation for Genshin Impact's Sumeru, we've got a bunch of guides covering the new characters, including Genshin Impact's Tighnari, Genshin Impact's Dori, Genshin Impact's Collei, and Genshin Impact's Dehya. We've also got a super handy Genshin Impact tier list, as well as a bunch of goodies up for grabs in our Genshin Impact codes.
Who is Genshin Impact's Nilou?
Nilou appears in the third Genshin Impact Sumeru teaser trailer, gracefully dancing on a stage. In a land like Sumuru that values rationality and wisdom, she went off the beaten path, instead choosing to pursue art and dance. This makes her a bit of a rebel in a way, and sees her shunned by her peers for her frivolity, but she's dedicated to her craft and seems pretty good at it from what we've seen.
Nilou wears a headdress with a golden halo over it, along with flowing blue dancer's garments and multiple bangles and accessories. She has black and gold horns atop her head which seem reminiscent of Azhada's, though we're unsure if they're actual horns or another part of her headdress.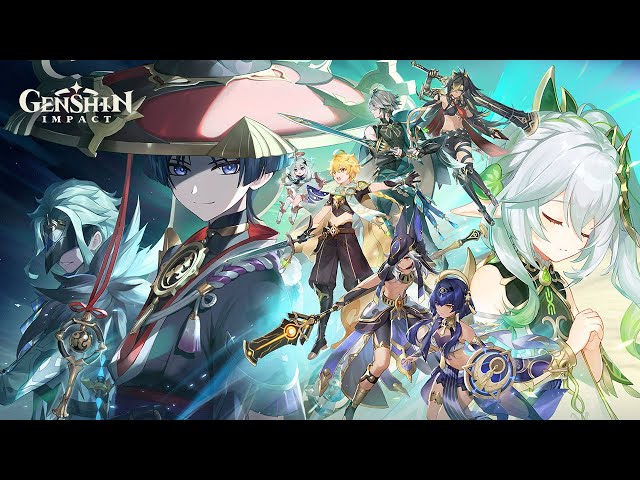 What are Genshin Impact Nilou's element and weapon?
Hoyoverse has confirmed that Nilou wields a hydro vision and a one-handed sword. In the recent 3.1 livestream, we got to see her in action – and her sword skills are equally as fluid and impressive as you'd imagine. Take a look at the trailer above to get a better idea of her playtsyle.
When is Genshin Impact Nilou's banner?
During the 3.1 livestream, Hoyoverse announced that Nilou's coming in the second phase of the next update, which should come around mid-October, after Genshin Impact Cyno's banner ends.
Nilou's banner runs alongside the return of our old friend Genshin Impact's Albedo. Find out more about current and upcoming banners in our Genshin Impact banner guide.
What are Genshin Impact Nilou's skills?
Once again, Hoyoverse has been keeping pretty quiet about Nilou's skills and role, but with the recent livestream, we got a glimpse at just how powerful she can be. We're still working out the details at the moment, but as soon as we find out more, we'll be sure to update this guide with all of her skills, attacks, buffs, stats, and more.
That's everything we know about Genshin Impact's Nilou so far. For more exciting adventures, check out our list of the best games like Genshin Impact.